How to Check the Shutter Count on a Panasonic Lumix S Series Cameras S1, S1R, S1H, S5
Buying a professional camera in itself is a decision that cannot be taken without doing the proper research. If you are looking for a second-hand camera, that decision becomes a little bit more complex. Knowing the shutter count of the camera you plan to buy is one of the most important aspects of ensuring longevity and value for money. If you already have a camera, then knowing the shutter count will help you to roughly gauge how much longer you will be able to use it.

Before we go into the details of how to check the shutter count on a Panasonic Lumix S Series camera, it is vital to follow the steps in their proper order. Some of them will be a little difficult but with a bit of practice, you should be able to pick it up fairly quickly.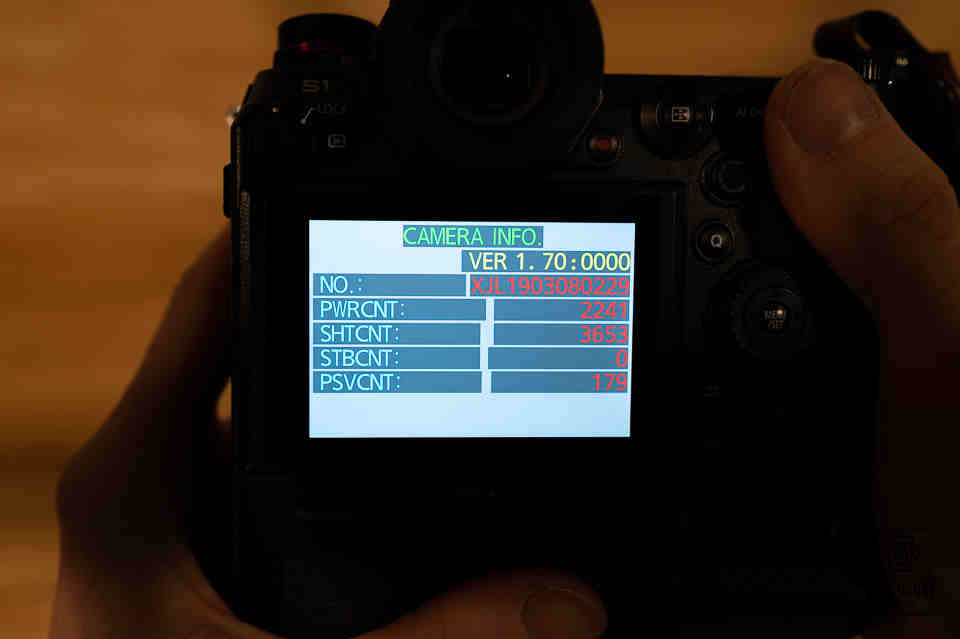 Total Time Needed :
1
Minute
Required Tools:
Things Needed?
– Panasonic Lumix S Series Camera
Steps to check the shutter count on a Panasonic Lumix S series cameras: S1, S1R, S1H, S5:
What are PWRCNT, SHTCNT, STBCNT and PSVCNT?
They are abbreviations to showcase various parameters regarding the usage of the camera.
PWRCNT – This one displays the total number of times the camera has been turned on.
SHTCNT – Displays the number of times the shutter has been activated.
STBCNT – Shows how many times the flash has been used so far.
PSVCNT – The number of times the auto power-off functionality has been used.
All the above parameters allow you to figure out how extensive the prior usage of the camera has been and helps to gauge whether it is worth buying or not. Out of all the parameters, the shutter activation one is the most important as it directly relates to the longevity of the camera.
Why is it important to know the shutter count of a camera?
The shutter of a camera is like the engine of a car. Repeated use may lead to breakdown after a certain amount of time. As a mechanical part, the shutter is the part that is most prone to failure and comes with a pretty steep repair cost. When it comes to second-hand cameras, having a damaged shutter depletes any value you may have gotten from its low price point.
When it comes to any other part of the camera, if they remain undamaged after a few months of use, they will pretty much last a long time. However, the shutter has a fixed number of uses before it will break down and be rendered non-operational. Every camera will have an 'x' amount of shutter cycles and so you will have to compare the shutter activation count you got with that number to see if it is worth getting the camera or not.
Most ordinary DSLR cameras come with approximately 50,000 shutter cycles whereas the professional ones come with 50,000 to 100,000 or more. It is important to note that a camera can still function even if the shutter cycles are well past their respective standard counts. Some might even go for an extra 50,000 or even 100,000 cycles; however, it is always wiser to presume the standard count to be on the safe side, especially when you are buying a second-hand camera.
Related Questions
What is the temporary service mode and service menu?
The Temporary Service Mode exists to help you figure out various parameters relating to the different aspects of the camera from shutter activation count to the number of times the camera has been turned on and more. It also displays different error codes and various other details about the device. The service menu is the interface that displays different functions and allows you to access important data such as the serial number of the camera, firmware version and more.
How much would be the ideal number of shutter cycles that would make a second-hand purchase worthwhile?
Unfortunately, it would be impossible to give an 'x' amount of shutter cycles as an acceptable number as the life expectancy may differ from one model to another. As a general rule of thumb, you can take 35 to 50 percent of the maximum shutter cycles count as a minimum barrier when it comes to buying a second-hand professional camera. This range can increase or decrease based on the price you are getting the camera for. So if you are getting it at 60 to 70 percent less than a new one, you can buy a second-hand one even if it crosses the 35 to 50 percent mark.
Related community topics
If you have any other questions that are not answered in this article, you can ask them on our Community Forum by clicking on this link.